We take a great deal of pride in providing the special rustic and very comfortable home-like setting for your sure-to-be memorable trip to and around Yosemite. We offer simple rustic luxury with our properties and cabins. Our clean and quaint newly remodeled & secluded cabins all have character so there is a different adventure each time you visit. We have maintained all the original configurations and made use of the original materials, so that your getaway experience is sure to be authentic and unique.
Your rental can be easily, reliably and securely reserved through our links to VRBO / Home Away (the world's leading online marketplace of vacation rentals). Extra literature can be found in the cabin describing sites to visit during your stay.
Our properties are well located between two entirely different entrances to Yosemite National Park (with a little more than a one hour drive to the Yosemite Valley Floor) and, also, right by the enchanting town of Mariposa. The cabins are also located near route 49, so you are not far from any of the action. Convenient stores are as close as 1 mile away. And the towns and shops of Mariposa and Oakhurst are 10 and 20 minutes away, respectively. Please check out our website, and see all of the wonder and adventure that awaits you on your next vacation!
The owner, a physician from southern California, originally came to Mariposa for the old town feel and closeness to the great national park of Yosemite and other outdoor activities.  He then bought these properties in Mariposa to allow repeat visitors to experience a different and special setting for each visit, while maintaining a high standard of quality, comfort and cleanliness. His family finds it difficult to leave and they always looks forward to returning.  We believe you will, also.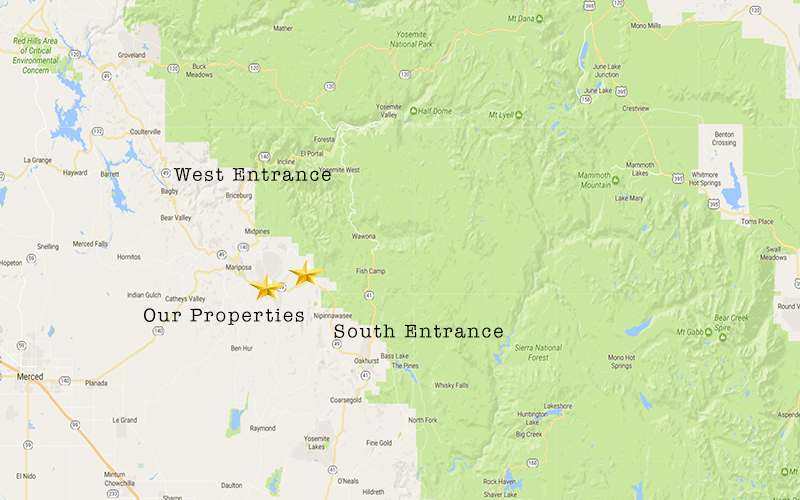 praised by our renters
Wonderful Cottage We stayed in this cabin as a base for our recent visit to Yosemite. It was clean, comfortable cozy, and very relaxing. Having laundry facilities after a day of hiking in the park was really nice. The drive to the Valley Floor is 60-90 minutes but the scenery is so beautiful it's not really inconvenient. We found everything we needed for an enjoyable stay and more. Our hosts thought of everything. I'd definitely stay here again.

Fantastic place to stay! This was such a wonderful experience. The cabin itself is gorgeous, with wonderful matte furniture that really gave it a cozy, comfortable feel. I'd recommend this place to anybody - it's close to Yosemite and offers a great escape.

5 Star property !! We were so impressed with the standard and location of the property we have already recommended to friends and family, the cottage was so clean and welcoming and everything you would need was available and even a few treats from Michelle, such effort had been put into the cottage you could tell Michelle cared about her visitors, I would highly recommend if you are on a bit of a road trip like we were to make this a definite stay.
Copyright © 2017-2021 Cottage Retreats LLC. All Rights Reserved. Please see Cabin Listings on VRBO/AirBnB for full terms and conditions.