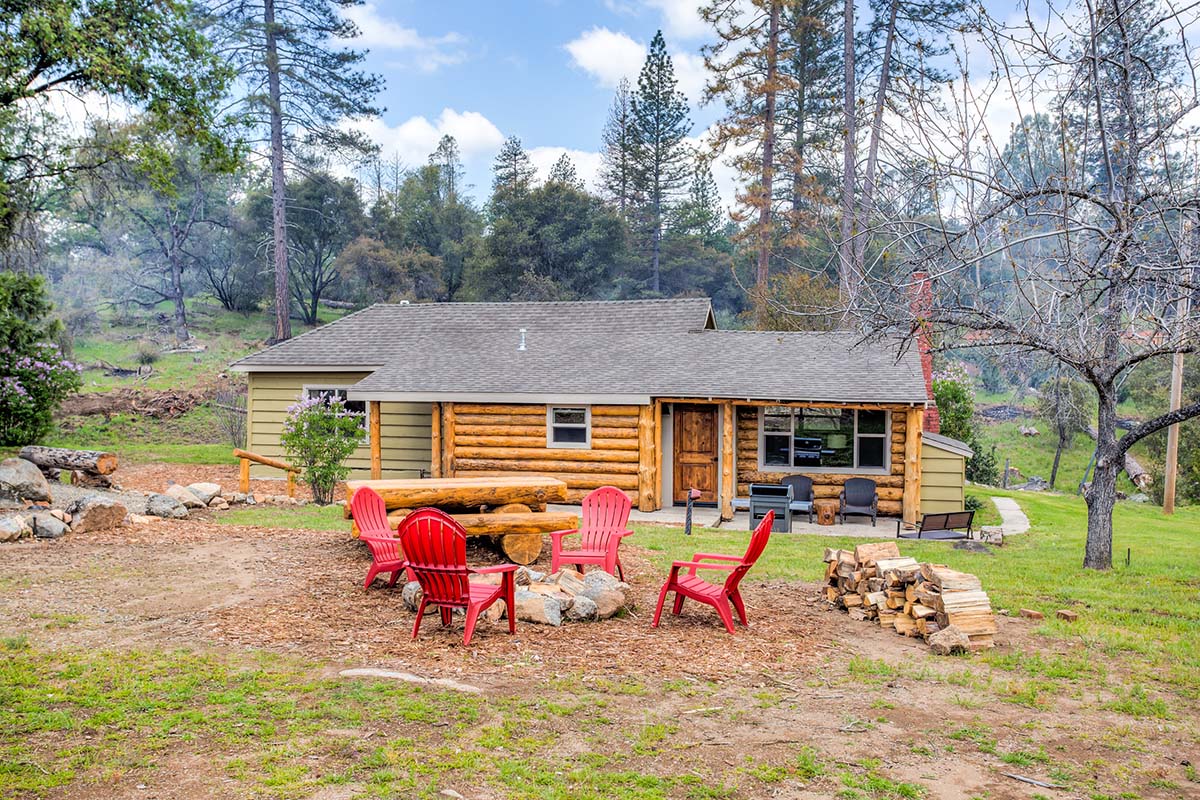 2 Bedroom Original Log House, 2 Bathrooms, Sleeps up to 4
Winner of over 80 Five Star Reviews on VRBO
Rustic Yet New & Modern, Just What You Needed!
Enjoy your stay at this just completed, newly renovated, secluded log cabin getaway, where you will find yourself away from the city noise, but privately tucked  on a 40 acre parcel in the hills of Mariposa halfway between both Yosemite entrances – so you can experience the unique beauty of each! Easy access during the summer and winter months!
This is not an old, forgotten about cabin, rather a cabin with the heart of the past, but conveniences of the present. The Log House Retreat is a two bedroom, two bathroom retreat that features updated everything! (If you need a three bedroom, take a look at our newly redone Cottage Retreat– winner of more than sixty-five 5 Star reviews on VRBO / HomeAway.)
The cabin sits on the same property as our Cottage Retreat, making them a perfect choice for family reunions or gathering of friends! And only 3 miles from our Valerian Retreat. The property also has a beautiful old barn that is well over a century old. Come see the history!
The Log House Retreat is furnished with brand new appliances and furniture. The new kitchen has granite counter tops and new appliances with all you will need to prepare meals … or not. We have installed 3 flat screen TV's with satellite cable for your enjoyment after you return from the park.  You won't find the typical musty smelling cabin here. Instead, you'll be greeted by a meticulously cleaned cabin (just look at the reviews) with white fluffy towels of the type that you find in a fine hotel. How about an original log house with central air conditioning and heating? There is also free WiFi for Internet or a 'working' holiday. The living room, dining area and kitchen are all open, allowing you to enjoy watching your favorite movies or shows and to stay warm with the original stone hearth fireplace in those cooler
months.
Natural materials were used to accent the home's history lending to its
warmth and the charm of times gone by. Look and you'll see features in the home that are nearly 100 years old. The property will invite you to take leisurely hikes and enjoy the forested and scenic views. You can see the Sierras from locations on the property. Peace and quiet are the best things you'll notice when you stay at the Log House Retreat. It is set back just off the main route 49, near the historic town of Mariposa and is half way between two entrances to Yosemite Park. You'll want to sample both easy but different drives into Yosemite – either via the west entrance with HWY 140 along the valley floor beside the Merced River or via the south entrance with HWY 41 through the Sierra mountains.
You can come for the summer season, but you'll find that the cabin is also the perfect hideaway in the fall, winter and spring. At 3300′, it is cooler in the summer but invites a blanket of snow in the winter, providing our guests with that inviting and beautiful snowscape.
Come and visit! You won't want to leave.
praised by our renters
Wonderful Cottage We stayed in this cabin as a base for our recent visit to Yosemite. It was clean, comfortable cozy, and very relaxing. Having laundry facilities after a day of hiking in the park was really nice. The drive to the Valley Floor is 60-90 minutes but the scenery is so beautiful it's not really inconvenient. We found everything we needed for an enjoyable stay and more. Our hosts thought of everything. I'd definitely stay here again.

Fantastic place to stay! This was such a wonderful experience. The cabin itself is gorgeous, with wonderful matte furniture that really gave it a cozy, comfortable feel. I'd recommend this place to anybody - it's close to Yosemite and offers a great escape.

5 Star property !! We were so impressed with the standard and location of the property we have already recommended to friends and family, the cottage was so clean and welcoming and everything you would need was available and even a few treats from Michelle, such effort had been put into the cottage you could tell Michelle cared about her visitors, I would highly recommend if you are on a bit of a road trip like we were to make this a definite stay.
Copyright © 2017-2021 Cottage Retreats LLC. All Rights Reserved. Please see Cabin Listings on VRBO/AirBnB for full terms and conditions.