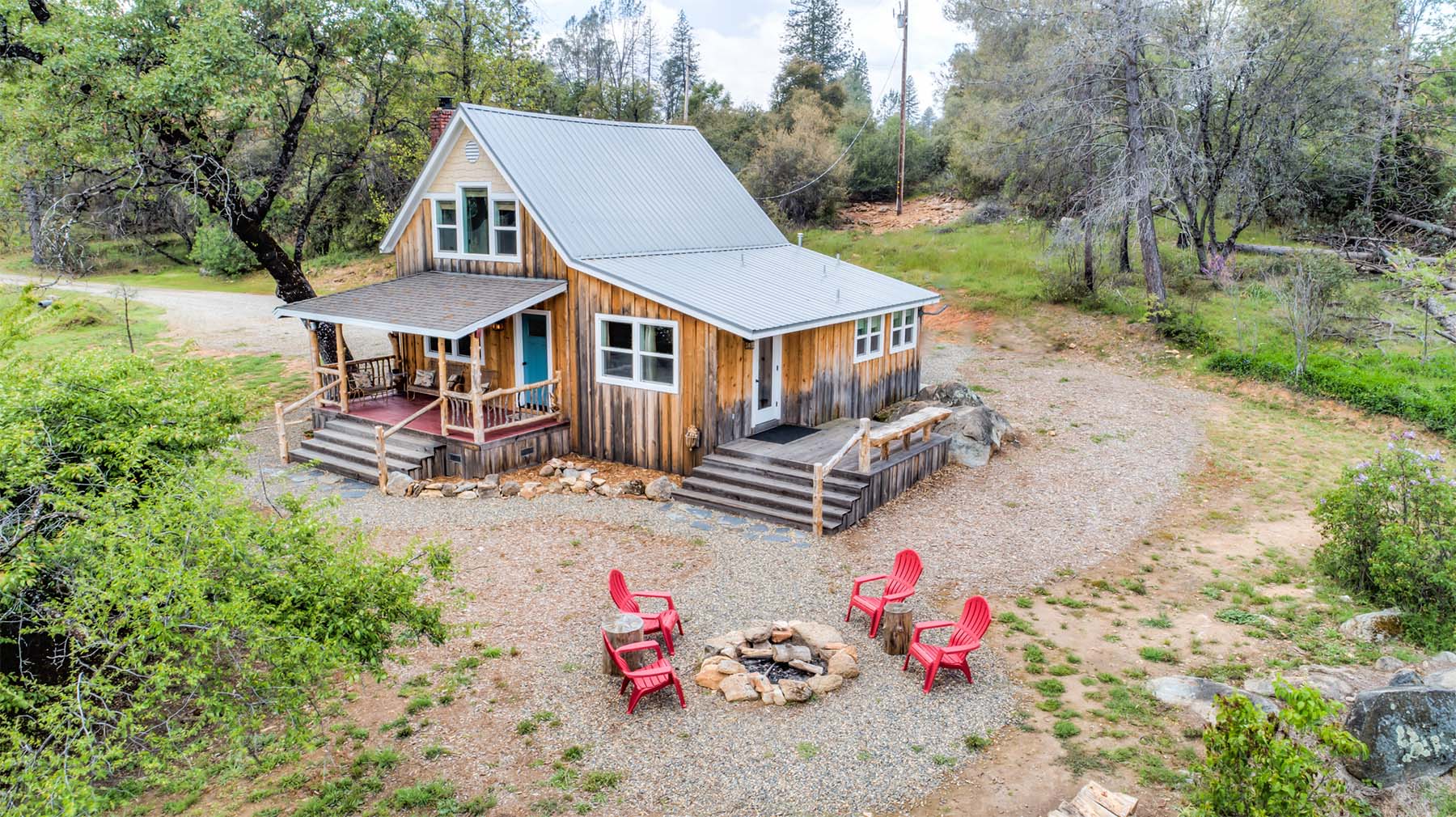 3 Bedrooms, 2 Full Bathrooms, Sleeps up to 6
Winner of 110 Five star reviews on VRBO
Cottage Retreat is the new sister property of 2 Bedroom Valerian Retreat – winner of more than 110 five star reviews. The two secluded cabins are located 3 miles apart and are perfect for a large family reunion.
The Cottage Retreat is charming with a century old history. While fully maintaining the charm of its history, the cottage has been brought into current times with all the modern conveniences.
In the cottage you'll find all the amenities you will need in this newly renovated (September 2015) 3 bedroom cozy cottage with 2 full baths. When you walk into Cottage Retreat, you won't find the musty stuffiness, typical of many vacation rentals. There is all new vintage furniture. The modern kitchen has all new solid stone surface counters and is decorated to look and feel like an old style farm house. The cottage decor is professionally done to feel comfy with great function. There are 3 flat screen tv's, wi-fi and some cell phone services that work well (Verizon has been two or more bars). The cottage can sleep 8 comfortably. There are two outside sitting areas – one is a front porch looking into the forest and the other belongs to the master bedroom with its own private deck to sit, allowing some private time. A bbq and picnic table are set in the woods along with a rock fire pit. The outside area is large and level, making it a great place for kids to play, ride bikes and explore nearby.
The living room, dining area and kitchen are all open, allowing you to enjoy watching your favorite movies or shows and to stay warm with the fireplace in the cooler months. We have central air-conditioning and heat for your comfort any time of the year and an all new easily accessible laundry area easily accessible. Here is another nice unique feature – you won't be bothered while trying to sleep by creaky floorboards or people walking above – the downstairs master bedroom has no second floor above it. Your new home is a two story farm house cottage with pine accents from the natural surroundings. You'll find two bedrooms upstairs and 1 bedroom downstairs with its own bath. Natural materials were used to accent the home's history lending to its warmth and the charm of times gone by. Look and you'll see wood in the home that's 100 years old. The floors upstairs are original, but reworked during the special renovation.
Set on 40 secluded acres, the property will invite you to take hikes and enjoy the forested and scenic views. You can see the sierras from locations on the property. Peace and quiet are the best things you'll notice when you stay at the cottage. The cottage is set back just off the main route 49 and is half way between two entrances to Yosemite Park. You'll want to sample both easy, but different drives into Yosemite – either via the west entrance with hwy 140 along the valley floor beside the Merced River or via the south entrance with hwy 41 through the Sierra mountains.
Come and visit. You won't want to leave.
praised by our renters
Wonderful Cottage We stayed in this cabin as a base for our recent visit to Yosemite. It was clean, comfortable cozy, and very relaxing. Having laundry facilities after a day of hiking in the park was really nice. The drive to the Valley Floor is 60-90 minutes but the scenery is so beautiful it's not really inconvenient. We found everything we needed for an enjoyable stay and more. Our hosts thought of everything. I'd definitely stay here again.

Fantastic place to stay! This was such a wonderful experience. The cabin itself is gorgeous, with wonderful matte furniture that really gave it a cozy, comfortable feel. I'd recommend this place to anybody - it's close to Yosemite and offers a great escape.

5 Star property !! We were so impressed with the standard and location of the property we have already recommended to friends and family, the cottage was so clean and welcoming and everything you would need was available and even a few treats from Michelle, such effort had been put into the cottage you could tell Michelle cared about her visitors, I would highly recommend if you are on a bit of a road trip like we were to make this a definite stay.
Copyright © 2017-2021 Cottage Retreats LLC. All Rights Reserved. Please see Cabin Listings on VRBO/AirBnB for full terms and conditions.