Why You Should Vacation at Yosemite
So if you and your family or friends are looking for the perfect place to visit and you have California in mind, look no further than the Yosemite National Park area. This world renowned park features many unforgettable experiences and views like the historic Half Dome, Yosemite Falls (highest falls in the U.S. at over 2,400 feet), Bridalveil Falls, Mist Trail, the unforgettable giant sequoia trees, skiing in Badger Pass, rock climbing, and much more. If you seek adventure, or the calmness of nature, or anything in between, then this is the place for you.
Yosemite is internationally recognized for its granite cliffs, waterfalls, clear streams, giant sequoia groves, lakes, mountains, glaciers, and biological diversity. Almost 95% of the park is designated wilderness. Yosemite is one of the largest and least fragmented habitat blocks in the Sierra Nevada. Our cabins are close to both beautiful entrances! Each has it's own unique views, highlighting either the majestic mountains or the Merced River Valley.
Selecting the best time to visit is probably the most difficult task of all when selecting Yosemite as your destination and that is because there are so many pros and cons with each time. The warm months and when school is out are the most popular times of course. Not to mention it is the best time to swim and enjoy other outdoor activities. But when choosing the Summer months as your time of travel, you must be ready for big crowds, traffic jams, and 'No Vacancy' signs at park lodgings (which is a great reason to select one of our great cabins for your stay).
Another busy time for travelers is the Spring time, when Yosemite Valley's waterfalls are at their peak. But since school is not out, the crowds will be much less intense and it will not be as hot. But be warned, some roads may still be closed due to snow, but most lower campgrounds and trails should be open, so you should be good to go. Many say this is the best time to visit the park and area.
Then there is the Fall season, which is the least popular as the many beautiful water falls are all dried up and nights are cold. But, you still get to see the gorgeous golden leaves of fall and all of the magical colors of the leaves. And then of course the Winter season is marked with beautiful white snow and skiing. Now roads will surely be closed in some areas, many camps will be as well and it will be cold, but there is nothing quite like a winter in Yosemite!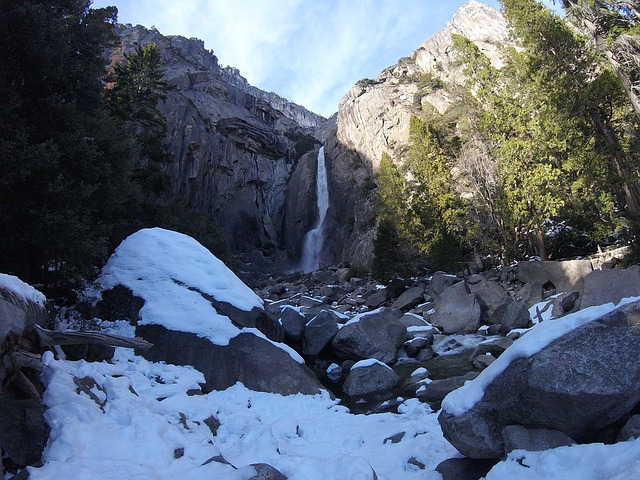 And once you have had your fill of nature, you can visit one of the beautiful and quaint nearby towns like Mariposa. Mariposa, CA has the unique distinction of being an authentic gold rush era community located near the southern end of the Mother Load country of the 1849 gold rush. Mariposa is located on Highway 49 which spans most of the historic mother load country of California. This quaint little town has no stop light, nor does the county. And it is home to the oldest court house in California and the oldest west of the Rocky Mountains! There is also zipping, wineries & vineyards, and more! So do not hesitate, book your cabin today and enjoy the adventures that await you at Yosemite!